Our range of Garage Door Seals
Garage Door Seal Kits
Central Profile

Seals against the door creating a watertight seal

Yellow Warning Line

Designed with safety in mind to prevent tripping & falls

Durable Thermoplastic Material

Durable & flexible - 100% recyclable, and does not degrade over time

Serrated Bottom Edge

Creates a stronger bond to the adhesive
Commercial Door Seals
Central Profile

Designed with safety in mind to prevent tripping & falls

Joining Bars

Internal joining bars allow multiple sections to be joined to create a seamless seal

Aluminium Material

Designed to withstand heavier loads, up to 50 ton. Gentle ramp profile allows forklift trucks and pallet trucks to easily pass over

Bottom Insert Seal

Compresses against floor to create a watertight seal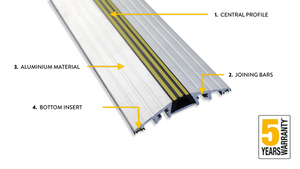 The Best Garage Door Threshold Seals
GaraDry® is an award-winning company and the UK's leading manufacturer and supplier of garage door seals for domestic garages, roller shutters and commercial doors. We have the largest range of threshold seals available on the market, with solutions for sealing the bottom, top and sides of your garage door. We have also designed insulation for up-and-over doors – a cheaper alternative to an expensive insulated garage door!
You can't go wrong picking up any of our range of garage door threshold seal and commercial door seal products. Every single one has been designed and curated by a British industrial engineer in order to fit any garage door and protect your garage from the weather. Whether that is heavy rain fall and flooding or a lot of windy days where leaves fall into your garage, our garage door seals will protect your business premises or garage perfectly. From design to manufacturing, everything you see on the store was made in Britain.
You can have a lot more time to do things you actually want to do rather than spending minutes maybe even hours cleaning out your garage after a big storm hits. Having a garage door threshold seal allows you to no longer worry about your garage as it will be protected 24 hours a day for at least the next 5 years under our warranty scheme.
The garage door seals you see on this website all have a few features in common, including:
•Stopping any water from making its way inside the garage
•Acting as a garage door water stop in case of flooding
•The seals help you keep heat in and overall reduce your electricity costs
•Allows you to spend less time cleaning the garage
•Keeps the garage clean by not letting any windswept debris in
•Prevents field mice and other rodents from sliding under the gap
•Stops leaves being blown under the garage door

Award Winning Garage Door Seals
In April 2023, GaraDry® was honoured with the first ever King's Award for Enterprise for International Trade in recognition of three consecutive years of exceptional sales in overseas markets. The King's Award for Enterprise are the UK's most prestigious business awards, recognising excellence across the UK in categories such as innovation, international trade and sustainable development.
The King's Award was previously known as The Queen's Award, prior to the passing of HM Queen Elizabeth II in September 2022. The new name reflecting His Majesty The King's desire to continue the legacy of his mother by recognising outstanding UK businesses.
2023 marked the 57th year for the award program, allowing awarded the use of the esteemed King's Awards Emblem for five years.
GaraDry® are proud and humbled to be selected for the award, and to help fly the flag for British business and products manufactured in the United Kingdom.
HRH The Duke of Gloucester presented the staff with the award on behalf of HM the King on November 24th 2023 during a special tour of the premises.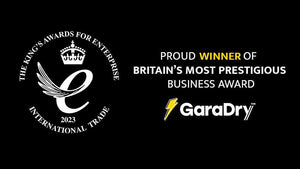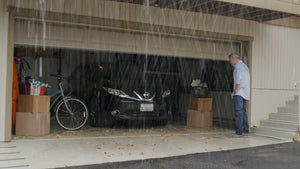 How will your products help me?
Aside from the features above, there are other applications of the products that haven't been listed out yet. Though our threshold seals were designed with commercial and domestic garage doors in mind that doesn't mean you can't use them, for example, to waterproof around a shower or basin in order to keep the water in. You can see on this video that it will stop the water from spilling over regardless.
This is what makes our products special, because while they may only have one broad purpose the quality of them speaks for itself. They not only protect your garage and premises from rainfall, they also stop condensation and damp build up stopping the cause of rusting at the very source; they will take care of your equipment, tools, appliances, and any cardboard boxes you need for the future.
Our garage door threshold seals are able to be used for a couple of different applications besides serving as a water stopper. Some of our customers have used it as a water diverter to keep water away from certain areas and others have used it to secure things like outdoor showers to stop water from spilling out.
How does our product range work?
Our products are all designed and work in a very similar way with the only real difference being the sizes and how you apply the threshold seal. Our commercial door thresholds need to be bolted on to the floor after which they are fully secured and ready to protect your premises from the rain. Similarly, our garage door threshold seals need to be stuck onto the floor with an adhesive. The adhesive and sealant is provided with any of the garage door seal kits and after you have affixed it to the floor you also have a 5 year warranty to keep your garage clean and dry.
The way our garage door threshold seals work is that after you have successfully affixed them to the garage door and floor or roller shutter door and floor then a watertight seal is created up to the height of that seal. This then prevents any rainfall from getting into your premises and allows you to feel fully protected from the elements.
Each of our seals is made with environmentally friendly materials, using highly recyclable PVC plastic for the domestic range of products and aluminium for the commercial which is the most recyclable metal on the planet. When you buy with GaraDry® you are buying for the long term, with a 5-year warranty on our products and easily recyclable materials.