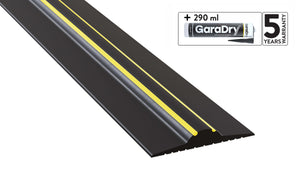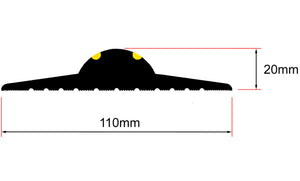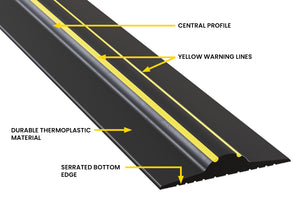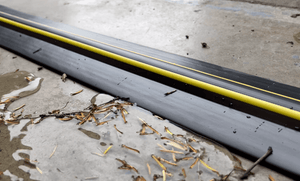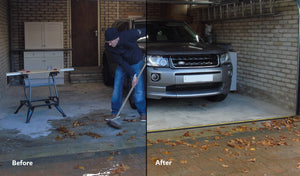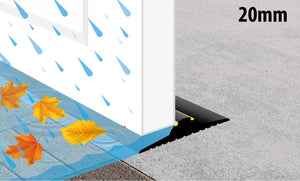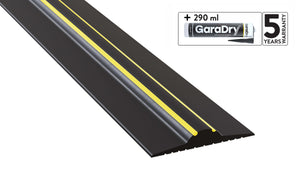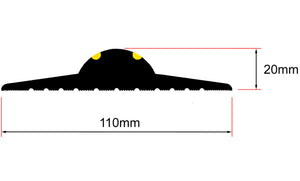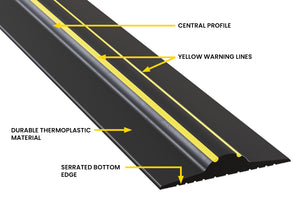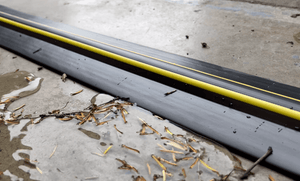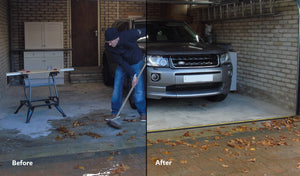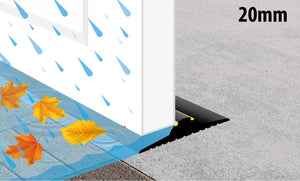 Garage Door Threshold Seal Kit 20mm (High)
Description
This 20mm garage door weather seal kit is your ultimate solution to any garage which has been seeing a lot of water and debris coming in. Our weather seals are designed to prevent any rainfall, leaves, and dust from entering your garage allowing you to kick back and relax over your weekend rather than spending it cleaning your garage. Make your garage a welcoming place that is clean and dry 24 hours a day.
Our garage door seals will also withstand pressure from most vehicles with no issue allowing you to get in and out without having to worry about coming back to a wet and dirty garage. However if you are dealing with heavier vehicles then you can always look at our aluminium commercial door thresholds who are designed for heavy duty vehicles.
How large is the 20mm Garage Door Weather Seal?
This particular garage door weather seal is 20mm high and 110mm wide, while having a range of different lengths ranging from 2.21 metres all the way up to 15 metres. Regardless of the size of your garage you'll be able to find one that suits it perfectly and if not then you can always cut it down to size.
What are our garage door seals made of?
Every one of our garage door weather seals is made of PVC material which was carefully curated to not only be environmentally friendly by being fully recyclable but also extremely durable and flexible at the same time. This gives it an edge over similar rubber garage door threshold seals, as our material will not experience wear and tear over time. The last thing you will expect our seals to do is become brittle and split; they will always maintain their original shape.
Will this seal work on my door?
Our range of seals including this 20mm garage door weather seal has been proven to work on all commercial and domestic applications. Whether your door is a roller shutter, a sectional garage door, an up and over door or a side-hinged door our products will always work on any of them. They can also be driven over by a wide range of vehicles; you can find a sheet in our buyer's guide which will show you the recommended weight limits for our thresholds.
Why should I consider buying a garage door weather seal?
The garage door seal will at the very least provide you with a sense of security and confidence that your garage will always remain dry and clean before you return. This is because of the watertight seal that is created when the floor and the seal meet using our adhesive, which will keep out any rain out of the garage alongside the debris wind usually brings with it. Due to it filling up the gap between the door and the floor, it also dissuades any rodents such as field mice or otherwise from coming into the garage.
We pride ourselves on being environmentally friendly and by buying one of our garage door seals you are taking one step into saving more on your energy over time. This is because the garage door seal will help keep heat in the garage, allowing you to save money on heating. If you have a workshop where you use many tools in the garage, then you should doubly get one as the seal will stop condensation from building and due to this slow down the rusting of your equipment.
This kit includes:
A 20mm GaraDry® garage door threshold seal
Enough adhesive to install the length of your choice
An informational installation guide that comes with a QR code for THIS YouTube video
5-year warranty for this product
Do you have any questions?
Get in touch with us at either our email or our phone line, we are open from 9am – 10pm Monday-Friday, able to take your query and address it to the best of our ability. You can call us at 01704 532 360, and our customer service team will help you and walk you through either making a purchase or simply to answer any questions you may have. Additionally, you can send an email through to sales@garadry.co.uk and you will be replied to within usually 24 hours, but most of the time it'll be much sooner.
Delivery & Returns
Delivery Costs
Delivery Service

Weight
Cost
Delivery Timescale
Economy Delivery
(UK mainland only)
0 - 200g
£1.99
2-3 working days delivery via Royal Mail 48 (Untracked).
200g - 2kg
£3.49

Standard Delivery
(UK mainland only)

< 200g
£2.99
1 - 2 working days via Royal Mail 24 (untracked)
200g - 2kg
£4.99
2k - 20kg
£6.95
1 - 2 working days courier (Tracked)
20kg - 40kg
£14.39
40kg - 60kg
£24.95
60kg - 250kg
£34.99

Express Delivery
(UK mainland only)

0 - 20KG
£8.99
Next working day Courier (Tracked). Delivery Monday-Friday. Available for most items. Orders placed before 2pm.
20kg - 40kg
£19.99
40kg - 60kg
£29.99
Returns Policy
To return an unwanted order, please contact us within 14 days of receipt of delivery. Full returns information can be found here.