Buyers Guide - Choose The Best Garage Door Threshold
What is a Garadry Door Threshold and how does it work?
This is one of the most common questions we get asked and the answer is quite simple. Our threshold seals are here to protect your garage from the weather. Whether that's a rainy day or a windy one with a lot of draughts we have you covered. The thresholds are made either out of thermoplastic PVC material or aluminium and are a great addition to any garage.
The best garage door thresholds are typically made from robust, durable materials that will protect the contents of your garage door for many years. This guide will run through the considerations and most important factors in choosing the best garage door threshold for your door.

The Problem
When your garage has a gap between the garage door and floor it can create real problems during storms, heavy rainfall, or floods. This is because your garage can become waterlogged if you aren't protected from wind-driven rainwater blowing underneath your door. Even a very narrow gap is enough to allow water, dirt, or leaves to blow under your door. Rainwater and other unwanted debris entering your garage door can damage the contents of your garage as well as proving a nuisance to clean out after every rainfall.
The products you see here and, on our website, serve to stop that from happening. With heights available from 8mm all the way up to 50mm ensuring that any gap can be sealed.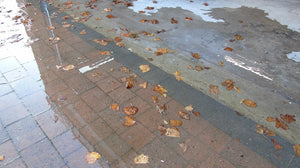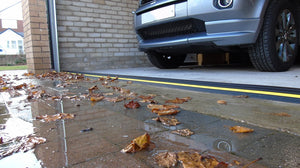 The Solution
All our seals prevent leaves, dust or sand, debris, and vermin from entering the garage as well as protect against draughts, wind-blown rainwater, standing water, cold air and snow.
Our flood barriers are also available if you have a large amount of standing water.
Both types of seals which you will read about below are also made from 100% recyclable material. We pride ourselves on being environmentally friendly and keeping our carbon footprint low. They are also odourless and will not rot, decay, or lose their colour with prolonged exposure to water or sunlight.

Aluminium or PVC Seals?
An important decision when considering which garage door threshold to buy is what material the threshold is made from. Whilst there are other options, such as rubber, GaraDry's thresholds are made from either aluminium or PVC.
The aluminium seals are heavy duty and were primarily designed for commercial or industrial purposes. However that doesn't mean you can't install it on your garage as they can virtually go on any door. These thresholds are screwed directly into the concrete and do not require adhesive. The commercial door seals range in height from 8mm, 15mm, or 25mm. The commercial seals are supplied in interlocking lengths of aluminium with continuous lengths of bottom seals to provide a complete seal along the full length of the threshold.
For the PVC garage door seals, the installation process is even simpler. Anyone with a basic understanding of DIY can install these in under an hour. The main advantage of this type of seal is that they are flexible and can provide an effective seal even when the floor is not level. The PVC seals range in height from 15mm, 20mm, 25mm, 30mm, 40mm and 50mm.
In summary, aluminium is more appropriate if you have heavy vehicles passing over the threshold. The PVC thresholds are suitable for most domestic vehicles (up to 2,800kg) but should not be used with heavier vehicles or large amounts of traffic. The PVC seals can be supplied in complete lengths up to 6.17m (20'3") to cater for any domestic garage door width (longer trade coils are available).



How to measure your garage door for a threshold seal installation
There are a couple of things that you need to keep in mind before you purchase a seal. You will need to measure both the width of your garage and the height of the gap between the bottom of your garage door and the floor.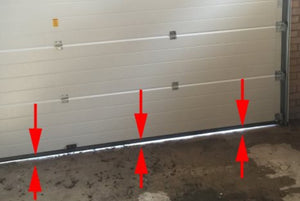 How to choose the correct height of threshold seal
To find the correct height of threshold seal for your garage you should measure the gap between the bottom of the garage door and the floor in several places to determine the largest gap.
Once you have identified the largest gap, next to consider is the level of protection you require, considering the severity of weather you face. The taller the seal the higher level and volume of water you will be protected from e.g. the 15mm high seal will create a watertight seal up to 15mm high of standing water. Our heights are set out the way they are to match the levels of rainfall. If you live in an area that is prone to flooding or heavy storms you may want to consider a higher seal to keep out more water.
If you want a larger seal to protect you against more severe storms and standing rainwater, you can fit a taller threshold, and set it back slightly from your door so that the door may still close properly.

How to choose the correct length for your garage
The final thing you will need to measure is the width of your garage door. This will be how you determine the length of the threshold seal you need. They all come in a wide variety of lengths to suit any garage opening size. For example, If you have a 2.74m (9') wide garage door, a 3.12m (10'3") garage door seal will suit it after cutting it down.
The length of the seal should be slightly longer than the width of the door to allow the threshold to be notched about the door frame or tracks. The thresholds can be easily cut to size using a hacksaw, or sharp knife or scissors, depending on the material.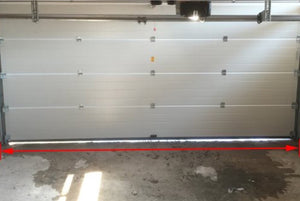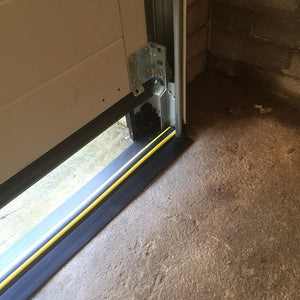 How is the threshold seal fitted?
The seal fits behind the garage door, sitting against the back of the door, thus ensuring a tight seal when the door is closed. It shouldn't be fitted at the front of the door as water will run down the face of the door. This will make the seal effectively useless, you will still have the same problem of water leaking in. For advice on fitting your garage door threshold, please contact us.
We have a very handy YouTube guide which you can access by clicking here. This will walk you through all the steps needed to install the seal in great detail. If you would prefer a paper version then you can access the PDF here. This is for the PVC thermoplastic seals, for the fitting instructions of the commercial aluminium seals click here.
When you install the seal, it should also be notched around the frame or door channels to ensure a complete seal. By notching it you eliminate any potential gaps that water could seep through. You can do this with a hacksaw, box-cutter or sharp scissors. Before you cut it place it down fitting snugly behind the door, then cut.
How does the garage door seal work?
When properly installed a garage door seal will protect your garage from water leaking in. Whether that's standing water, wind-blown rainwater or melting snow. They will also help prevent condensation inside the garage. If you have metal tools or gym equipment in your garage it will slow down the process of rusting. If you have cardboard in there, this will stop it moulding.
They also stop debris such as leaves, dust, and sand from being blown into the garage. This allows you to have a clean and dry garage all year round. This also works against vermin, such as rats and other small rodents, as the bottom of the garage door gap is sealed, they won't be able to slip in. Insects and small reptiles will also be stopped by the seal.
Another benefit that the seal has after installation is that it stops draughts by sealing the gap. This in turn makes the garage warmer throughout the year and also helps save on heating bills. If you find yourself often raising the thermostat, then installing a seal can help that. However, we also sell an insulation kit for up-and-over garage doors which can be used in conjunction with a garage door threshold to better insulate your garage door.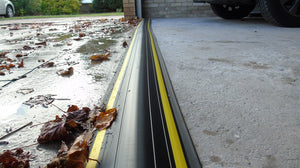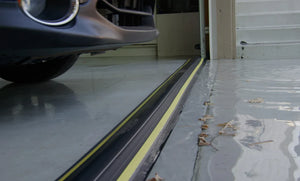 Why you should pick PVC over rubber seals
There are several reasons that PVC seals are preferable to the rubber seals outlined here. Rubber seals can often incur damage from excessive water or sunlight quite quickly and become brittle and crack or discolour. PVC threshold seals are durable and flexible and will retain their original shape regardless of the weather. The PVC material is also UV-stable. This means that it is resistant to sunlight and will not discolour even with prolonged exposure to direct sunlight.
Although rubber thresholds may be cheaper, you will get better value for money and a longer lifespan from a PVC seal.

Commercial Threshold Stress Test
Our 25mm High Commercial Door Aluminium Threshold Seal can be driven over by forklifts and HGVs up to 3mph. The Threshold Seal will withstand over 13,000 kg across a 10" (254mm) plate under laboratory testing. You can watch the video for this by clicking here.

For example, based on 254mm (10") wide tyres, the Threshold Seal will withstand axle weights of:

2 tyres => 26,000 kg
4 tyres => 52,000 kg

The wider the tyre, the more weight the threshold will withstand, the narrower the tyre the less weight it will withstand