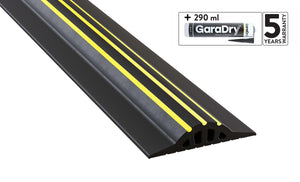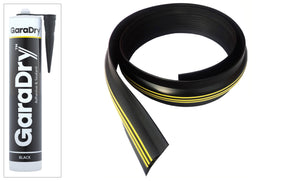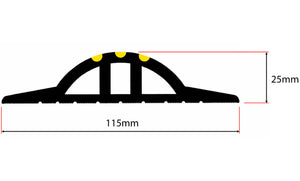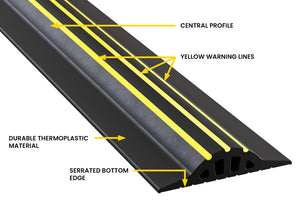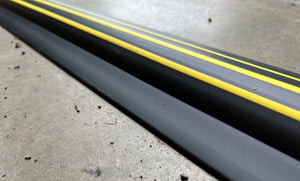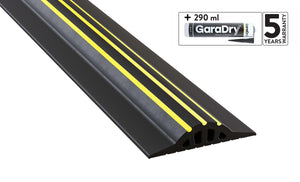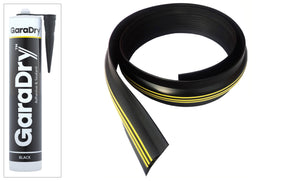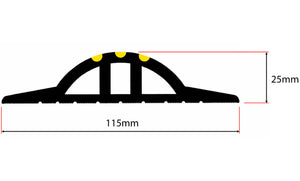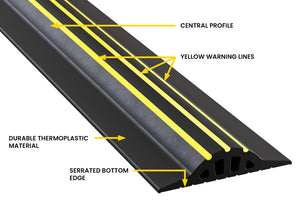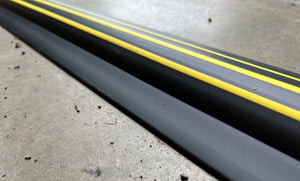 Garage Door Threshold Seal Kit 25mm (High)
Description
This 25mm garage door seal kit will keep your garage dry and secured from any rain, the product is made from highly durable PVC material which makes it a much more preferable option than rubber garage door seals that you can find online. Our 25mm GaraDry ® garage door flood seal kit will also prevent any leaves and debris making its way inside the garage by being a catch all for the elements.
By creating a watertight seal between the door and floor you can waterproof your garage and make it always shine regardless of the weather. We have a wide collection of garage door threshold seals available, which you can view by clicking here. If the 25mm seal height is not perfect for you, you'll be able to find a more appropriate product there. 
How does this garage door weather strip work?
The simple explanation is that our 25mm garage door seal threshold will be resting against the back of your garage door, after being affixed to the floor with our adhesive. This creates a seal between the garage and the outside making sure that no rainfall, debris, or rodents will enter your garage.
What type of garage doors can our seal work on?
The truth is that our garage door seals can be used on all types of doors, whether they're domestic or commercial applications. This will cover up-and-over doors, sectional, roller shutters and even side-hinged doors. Additionally, you don't have to worry about breaking the seal while driving over it once you allow the adhesive to settle with the seal. If you need any advice on which of our seals to pick then and which one will suit your door then click here to view our threshold buying guide.
Why should you buy a garage door threshold seal?
If you are in an area that often has heavy rainfall and also own a garage this should be an obvious choice. The seal will not only protect you from rainwater, leaves and dust being blown into your garage, it will also reduce the amount of lost heat flowing out of the garage which can help you reduce energy costs. Another obvious reason is that if you have any metal equipment stored in there, our garage door seals can help you reduce the amount of rust and condensation build-up helping your tools stay in top shape.
This kit Includes:
25mm Garadry® garage door threshold seal kit
Our adhesive with enough tubes for the installation of the seal dependant on size
Instruction manual which includes a QR code for a YouTube installation guide
Why Choose GaraDry ®
We are not only the best providers of 25mm garage door seal kits, but we also have a customer service team who have received glowing reviews over on TrustPilot and will be able to help you with any problem you may have regarding our product. Additionally, we provide you with a 5-year warranty for every product you order from us, allowing you to feel safe in that you'll be protected for that long at the very least with us.
If you would like to contact us about anything mentioned here then feel free to email us at sales@garadry.co.uk, and we will do our best to respond to your query. Alternatively you can always call us at 01704 532 360, which will put you through to our team and they will help you make an order that you are happy with.
Delivery & Returns
Delivery Costs
Delivery Service

Weight
Cost
Delivery Timescale
Economy Delivery
(UK mainland only)
0 - 200g
£1.99
2-3 working days delivery via Royal Mail 48 (Untracked).
200g - 2kg
£3.49

Standard Delivery
(UK mainland only)

< 200g
£2.99
1 - 2 working days via Royal Mail 24 (untracked)
200g - 2kg
£4.99
2k - 20kg
£6.95
1 - 2 working days courier (Tracked)
20kg - 40kg
£14.39
40kg - 60kg
£24.95
60kg - 250kg
£34.99

Express Delivery
(UK mainland only)

0 - 20KG
£8.99
Next working day Courier (Tracked). Delivery Monday-Friday. Available for most items. Orders placed before 2pm.
20kg - 40kg
£19.99
40kg - 60kg
£29.99
Returns Policy
To return an unwanted order, please contact us within 14 days of receipt of delivery. Full returns information can be found here.