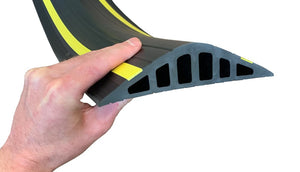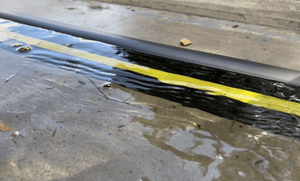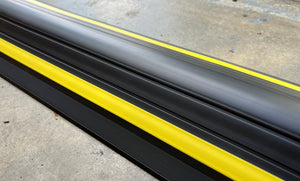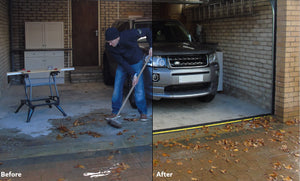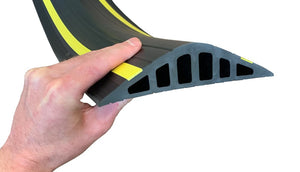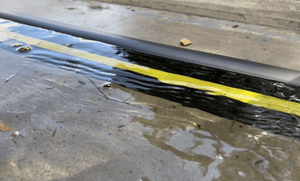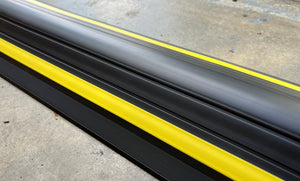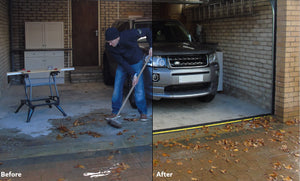 Garage Door Water Barrier Seal Kit 40mm (High)
Description
This GaraDry 40mm garage door water barrier kit was created to act as a larger stopper in areas where flash flooding is more common. This is due to the size of the seal being so tall at 40mm. It not only acts as an effective way of waterproofing your garage, but it also keeps out all debris such as leaves flying in or dust making its way inside.
This water barrier provides you with a clean and dry garage at all times of the year. Additionally the seal itself can be used as a water diverter across a driveway to direct the water elsewhere.
There are a lot of variants that you can pick from, if this seal doesn't suit your needs, maybe something less tall will be better for you. As an example you can look at our 25mm garage door seal here.
How does our garage door water barrier work?
Our 40mm seal is ideal for areas where you can expect to see a lot of water. This is because the seal and the adhesive provided combine to create a watertight seal. This will stop any and all water from entering your garage.
It will also reduce the moisture levels in your garage fully, so if you have any iron tools and equipment then getting a garage door water stop makes perfect sense as your tools will always be in working order.
Due to its tallness a lot of rodents such as rats or mice will be deterred from setting foot in your garage, the seal fills up any large gap that they could slip between in order to enter.
What type of doors are suitable for a 40mm garage door water barrier?
Despite it's size this garage door water barrier will work on any garage doors, whether they be for a commercial or a domestic application. The doors it will work on include sectional and side-hinged doors where the water barrier works very well and then it can also be used for both the roller shutter door used in a lot of warehouses and especially the up-and-over classic garage door.
Due to the tough material used to make it, it's also safe to be driven over by almost any vehicle. Please check our weight chart on the buyer's guide in order to make sure that your vehicles can drive over it.
What material is used to make this garage door seal?
All our garage door threshold seals are made from the same extremely durable PVC material, what you see online are plenty of rubber garage door threshold seals. However, our seal is completely different, firstly it will never become brittle or break because the plastic material is designed to be long-lasting. Additionally, by buying this seal you are being environmentally friendly as the product is fully recyclable.
The kit includes:
GaraDry 40mm Garage Door Water Barrier Threshold Seal
Adhesive with the quantity listed on the drop down for the installation
Full instruction booklet with a QR code link to THIS YouTube video guide
5-year warranty
How can I get in touch with GaraDry?
We have multiple methods of communication so you don't have to worry about how you can contact us. The first of these is to simply make a phone call to 01704 532 360, which will put you through to our customer service team who will help you either make your order or answer any and all questions you may have about our product and others.
You can also contact us via email by sending one through to sales@garadry.co.uk we aim to answer all queries within 24 hours but mostly do it on the same day.
Delivery & Returns
Delivery Costs
Delivery Service

Weight
Cost
Delivery Timescale
Economy Delivery
(UK mainland only)
0 - 200g
£1.99
2-3 working days delivery via Royal Mail 48 (Untracked).
200g - 2kg
£3.49

Standard Delivery
(UK mainland only)

< 200g
£2.99
1 - 2 working days via Royal Mail 24 (untracked)
200g - 2kg
£4.99
2k - 20kg
£6.95
1 - 2 working days courier (Tracked)
20kg - 40kg
£14.39
40kg - 60kg
£24.95
60kg - 250kg
£34.99

Express Delivery
(UK mainland only)

0 - 20KG
£8.99
Next working day Courier (Tracked). Delivery Monday-Friday. Available for most items. Orders placed before 2pm.
20kg - 40kg
£19.99
40kg - 60kg
£29.99
Returns Policy
To return an unwanted order, please contact us within 14 days of receipt of delivery. Full returns information can be found here.