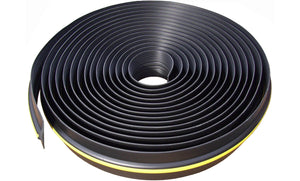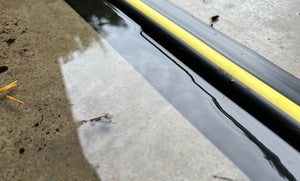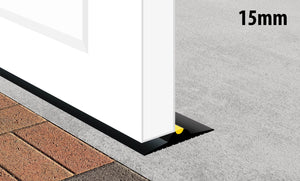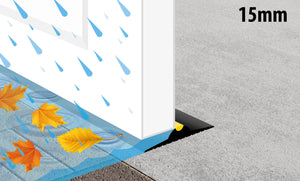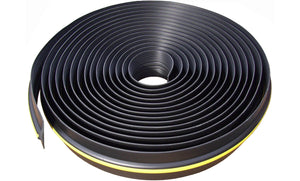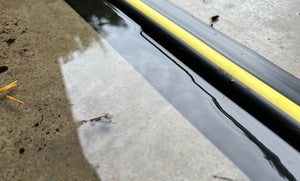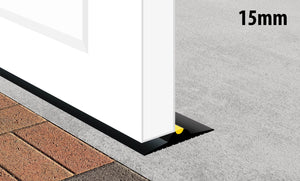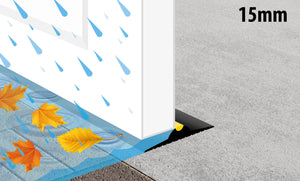 Garage Door Seal Coil 15mm (High)
Description
The GaraDry® 15mm garage door trade coil seal is an option that we offer to resellers and installers. The coil will last for multiple jobs and multiple sells, allowing you a lot of freedom on how to best use the product according to your needs.
How can I use this 15mm trade seal coil?
The main advantage of this compared to buying a single threshold seal is that it can be cut to length to complete multiple installations providing a more cost-effective option. If you have multiple doors in a project or you regularly install our thresholds, then the trade coil is the perfect option.
If you follow our fitting instructions found in this video you will be able to apply all our threshold seal options with no issues. They are extremely easy to install and will leave any client you have happy with the finished product. If you instead would like to resell it, you can point the customers to the same video or hand them the fitting instructions included with the trade seal.
The adhesive is not included with this product, but can be purchased separately. If you want to buy our adhesive you can click here, you have an option of buying singles or boxes of 12. We only recommend installing our thresholds with our specially formulated adhesive. 
How Does It Work?
The trade coil seal will push up against the back of a garage door and provide protection from water and leaves, assuming that it has been applied properly. The product creates a watertight seal between the garage door and floor against standing water up to 15mm high once applied with our adhesive.
The trade coil seal comes with a 5-year warranty, that means that should something go wrong you and your clients will be covered. Let us know if this happens and we will work with you in order to make this right.
What Type Of Doors Can It Be Used On?
This 15mm garage door trade coil seal can be used on all types of domestic and commercial doors, including up-and-over, sectional, roller shutter, and side-hinged doors. The threshold can be safely driven over with most vehicles, you can refer to our weight guide on the threshold buying guide in order to figure out what vehicles can drive over it and how to advise your clients.
What Material Is This 15mm Trade Coil Made From?
Our 15mm garage door trade coils are manufactured using high quality and long-lasting PVC material that are also fully recyclable. This similarly to all of our products is fully recyclable and eco-friendly, which means that your clients will be able to recycle them if they move or decide that they want to get rid of it.
The material won't decay or lose colour with prolonged exposure to water or particularly hot sunny weather. It is also flexible and durable due to the PVC material it is made from and unlike seals that are made from rubber, the plastic material will not become brittle and crack over time and will maintain its original, extruded shape.
Manufactured in the UK
Designed by qualified British Industrial Designer
Products are fully manufactured in the UK
How can I apply to be a Trade Customer?
We have a form available for you to fill out, found by clicking here once you fill this out we will look over it and reply to you with the result of your application. The form is quite long but it is best to be as thorough as you can be so we can consider your application in full. We look forward to working with you!
How can I contact GaraDry
®? 
If you need help with your trade application or if you need to know more details about the 15mm garage door trade coil seal then feel free to call us at 01704 532 360 and our customer service team will help you. You can also follow up your application with an email to sales@garadry.co.uk or use the contact form found here which we will respond to within 24 hours of receiving it. 
Delivery & Returns
Delivery Costs
Delivery Service

Weight
Cost
Delivery Timescale
Economy Delivery
(UK mainland only)
0 - 200g
£1.99
2-3 working days delivery via Royal Mail 48 (Untracked).
200g - 2kg
£3.49

Standard Delivery
(UK mainland only)

< 200g
£2.99
1 - 2 working days via Royal Mail 24 (untracked)
200g - 2kg
£4.99
2k - 20kg
£6.95
1 - 2 working days courier (Tracked)
20kg - 40kg
£14.39
40kg - 60kg
£24.95
60kg - 250kg
£34.99

Express Delivery
(UK mainland only)

0 - 20KG
£8.99
Next working day Courier (Tracked). Delivery Monday-Friday. Available for most items. Orders placed before 2pm.
20kg - 40kg
£19.99
40kg - 60kg
£29.99
Returns Policy
To return an unwanted order, please contact us within 14 days of receipt of delivery. Full returns information can be found here.