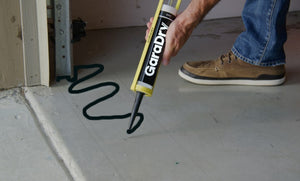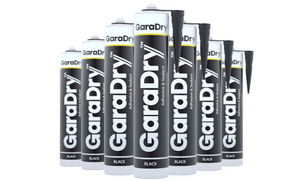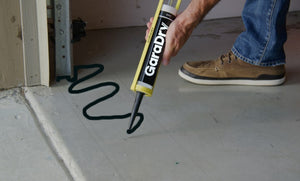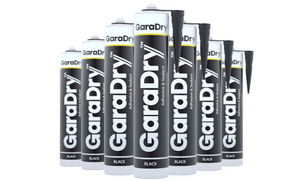 GaraDry® Adhesive & Sealant (Black)
Description
Our adhesive and sealant has been specifically engineered by us to be the all-in-one complete solution for adhering to and sealing all of our garage door threshold seals. The adhesive is an all-around, highly durable and permanently flexible adhesive and sealant that has excellent adhesion to non-porous surfaces.
This can also be used with our range of commercial door threshold seals, especially when your floor is uneven. This is because you can use a bead or more depending on your needs of the sealant to bed the aluminium on the floor, this should eliminate any gaps which would be under the seal on an uneven floor.
What makes our GaraDry Adhesive & Sealant special?
The adhesive will bond to damp surfaces and is able to be painted (with most paints). The sealant is odourless and free of isocyanates (highly reactive chemicals) with a shelf life (in tube, not applied) of 18 months.
Our new adhesive has been specifically designed for both effectively securing and weather sealing our garage door threshold seals and benefits from:
Increased surface grab
Increased durability and flexibility versus traditional sealants
Longer shelf life
Specifically engineered for maximum performance with our entire threshold seal range
Preparing the floor before applying the adhesive
Our adhesive & sealant has been designed and tested to stick to sealed concrete floors. The surface should be cleaned of all dust, dirt, oil and grease before application. If the surface is painted, we recommend using a wire brush to remove any loose paint from the floor. We also recommend using a concrete or block paving sealer to seal the concrete prior to use.
Time to dry
The time for the adhesive to cure is affected by many factors, such as the application temperature, humidity, etc. We recommend leaving the adhesive to dry overnight prior to driving any vehicles over the floor threshold. This will help to ensure maximum bond with the surface.
Documentation
How can I get in touch with GaraDry if I have questions?
There is a couple of different ways you can get in touch with us, you can always call us on 01704 532 360. This will put you through to our incredible customer service team, you can always check out our TrustPilot reviews to check their quality for yourself. They will be able to help you with any questions you may have, additionally you can always email us at sales@garadry.co.uk or by clicking on the contact form above or here. This will send us an email from either method which we will then aim to answer within 24 hours.
Delivery & Returns
Delivery Costs
Delivery Service

Weight
Cost
Delivery Timescale
Economy Delivery
(UK mainland only)
0 - 200g
£1.99
2-3 working days delivery via Royal Mail 48 (Untracked).
200g - 2kg
£3.49

Standard Delivery
(UK mainland only)

< 200g
£2.99
1 - 2 working days via Royal Mail 24 (untracked)
200g - 2kg
£4.99
2k - 20kg
£6.95
1 - 2 working days courier (Tracked)
20kg - 40kg
£14.39
40kg - 60kg
£24.95
60kg - 250kg
£34.99

Express Delivery
(UK mainland only)

0 - 20KG
£8.99
Next working day Courier (Tracked). Delivery Monday-Friday. Available for most items. Orders placed before 2pm.
20kg - 40kg
£19.99
40kg - 60kg
£29.99
Returns Policy
To return an unwanted order, please contact us within 14 days of receipt of delivery. Full returns information can be found here.