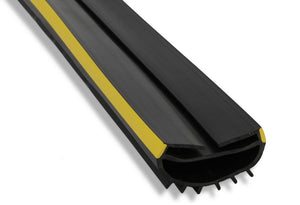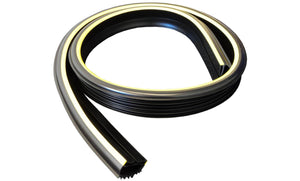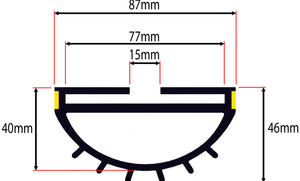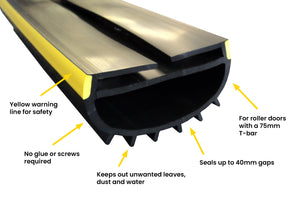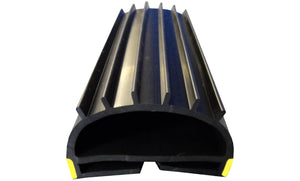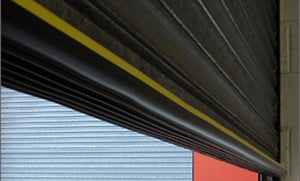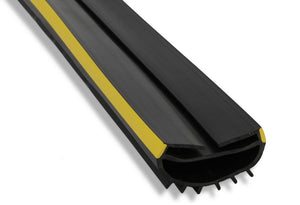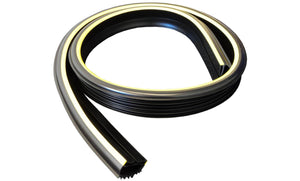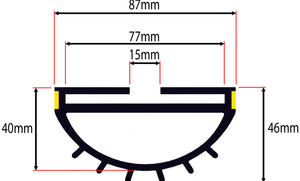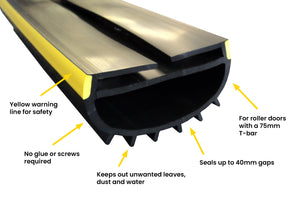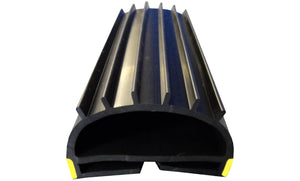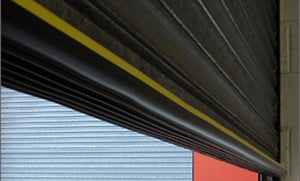 Wrap-Around Roller Shutter Door Seal
Description
The GaraDry wrap around roller shutter door seal is the perfect choice for any company which uses roller shutter doors. The seal wraps arounds the T-bar section and is compatible with all of the standard 75mm T-bar bottom sections commonly found on most commercial roller shutters.
The seal will prevent any debris, dust, and create a seal help to prevent water passing through into your premises. This is a much more unique solution than our commercial door thresholds, as it is affixed around the bottom of the garage door as opposed to being fixed to the floor.
For a more complete seal, this product can be used in conjunction with one of our commercial door threshold seals.
Advice for Roller Shutter Door Seals applied to Uneven Floors
If the floor isn't flat in your premises or garage assuming you have a roller shutter door, it would be recommended to use the commercial threshold seal in conjunction with the wrap-around roller seal.
The reason for this is that our product is designed to be used on flat ground in combination with a garage door, since if it isn't even, it'll have trouble creating a seal as it will push the material in one or the other direction.
What is our wrap-around roller shutter door seal made of?
This roller shutter door seal is made entirely of PVC material which is extremely durable and will withstand prolonged contact with water or direct sunlight. The material is designed to be hydrophobic repelling water and making sure that everything in your premises is as dry as possible.
What else should I know about the wrap-around roller shutter door seal?
Because the seal goes around the bottom of a roller shutter door measuring it properly is of the utmost importance. You need to be able to fit it all the way around the bottom, so when you start cutting it down measure it carefully to make sure that it can fully go around your roller shutter.
When you have installed the wrap-around roller shutter door seal, makes sure that it sits correctly on the floor. Just close and open the roller shutter and see if your seal is level with the floor.
The kit Includes:
One wrap around seal to go around the bottom of the door
A page of instructions to let you install it yourself
How to get in touch with Garadry?
We have multiple ways of contacting us, the main one our customers use is email. You can send us one at sales@garadry.co.uk and we will be able to answer your query in no time at all, with a maximum of 24 hours wait.
If your query can't wait then feel free to ring our office at 01704 532 360 during business hours which are 9am – 10pm Monday – Friday, and we will be able to help you either buy the product or answer any and all questions you may have.
This product is protected by a Community Design Registration (001982661-0002)
Delivery & Returns
Delivery Costs
Delivery Service

Weight
Cost
Delivery Timescale
Economy Delivery
(UK mainland only)
0 - 200g
£1.99
2-3 working days delivery via Royal Mail 48 (Untracked).
200g - 2kg
£3.49

Standard Delivery
(UK mainland only)

< 200g
£2.99
1 - 2 working days via Royal Mail 24 (untracked)
200g - 2kg
£4.99
2k - 20kg
£6.95
1 - 2 working days courier (Tracked)
20kg - 40kg
£14.39
40kg - 60kg
£24.95
60kg - 250kg
£34.99

Express Delivery
(UK mainland only)

0 - 20KG
£8.99
Next working day Courier (Tracked). Delivery Monday-Friday. Available for most items. Orders placed before 2pm.
20kg - 40kg
£19.99
40kg - 60kg
£29.99
Returns Policy
To return an unwanted order, please contact us within 14 days of receipt of delivery. Full returns information can be found here.