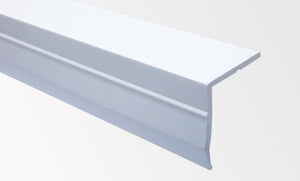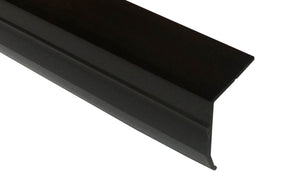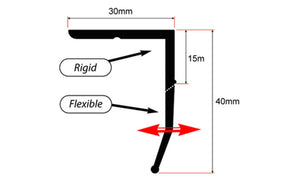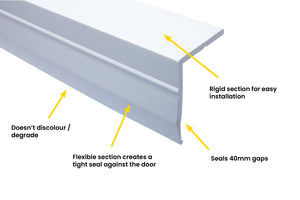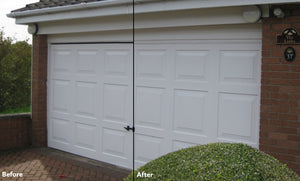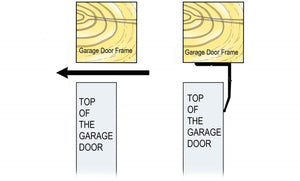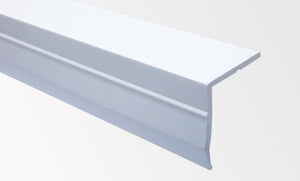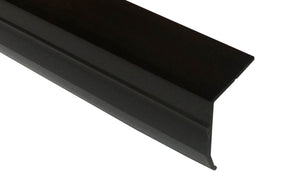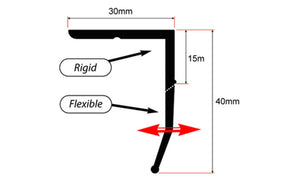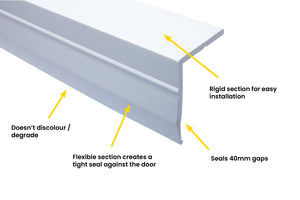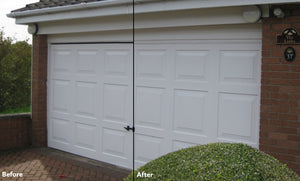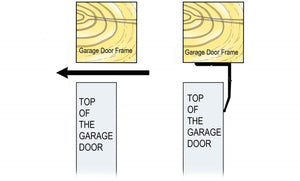 Garage Door Top Seal
Description
Our garage door top seal has been designed to act as a draught stopper which means it will stop air getting into or escaping the garage. They are available in a bright white or a stylish black depending on your needs and garage door. It usually seems to be best to blend it into the colour of the garage door, but you can choose either of the two that suits your fancy. It is also available in two kit sizes which are 2.44m and 3.05m; multiple lengths can be butted together for wider doors.
How does the garage door top seal work?
The top seal creates a seal between the garage door and frame which then stops draughts from coming into the garage, this serves to conserve heat within the garage and reduce your energy bills. It is made from dual-extrusion, durable thermoplastic which is also UV stabilised. This means that it won't discolour in sunlight and will not degrade at all when exposed to rain and strong winds.
The top part of the seal is rigid and can be screwed into the door's frame, while the lower, flexible section will allow the garage door to be opened and closed without any issue. If you are more interested in sealing the sides of the garage door you can always look at purchasing one of our garage door side seals, which will help you with that.
The garage door top seal is able to seal gaps of up to 40mm high between the door and frame and it simply just makes the garage door look better by eradicating the unsightly gap. It isn't simply for the aesthetics, but it is a bonus of the seal. It also makes it harder for any nasty insects or the like to make their way in through the top of the garage door, as the top seal will stop them in their tracks before they make it there.
What should I be aware of before I buy this garage door top seal?
Something that you may want to consider before buying either length of the product is that the 3.05m garage door top seal always comes with two 1.525m sections, which can be attached together. Multiple lengths can be easily joined together without a visible join for wider doors. This product can only be used with up-and-over garage doors, so please be aware of this before you decide to purchase this product. There's another product we sell which can be used with the up-and-over garage door, which is the garage door insulation kit. This would be an ideal solution if the problem in your garage is more related to heat escaping.
The Kit Includes:
GaraDry top seal length(s)
Zinc wood screws and washers
Fitting instructions
How can I get in touch with GaraDry?
If you would like to contact us, then the best way to do so would be to call us at 01704 532 360 which will let you speak to our customer service team and they will be able to help you make a decision that you're happy with regarding our products. One of the biggest praises we get on TrustPilot is regarding our staff and how helpful they are to clients, so you will have nothing to worry about. You can also email us at sales@garadry.co.uk or fill out the contact form found here, both methods will put you through to us after which we will try to respond within 24 hours to the query.
Delivery & Returns
Delivery Costs
Delivery Service

Weight
Cost
Delivery Timescale
Economy Delivery
(UK mainland only)
0 - 200g
£1.99
2-3 working days delivery via Royal Mail 48 (Untracked).
200g - 2kg
£3.49

Standard Delivery
(UK mainland only)

< 200g
£2.99
1 - 2 working days via Royal Mail 24 (untracked)
200g - 2kg
£4.99
2k - 20kg
£6.95
1 - 2 working days courier (Tracked)
20kg - 40kg
£14.39
40kg - 60kg
£24.95
60kg - 250kg
£34.99

Express Delivery
(UK mainland only)

0 - 20KG
£8.99
Next working day Courier (Tracked). Delivery Monday-Friday. Available for most items. Orders placed before 2pm.
20kg - 40kg
£19.99
40kg - 60kg
£29.99
Returns Policy
To return an unwanted order, please contact us within 14 days of receipt of delivery. Full returns information can be found here.