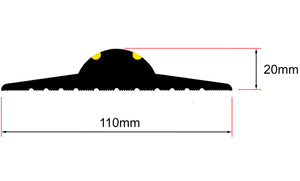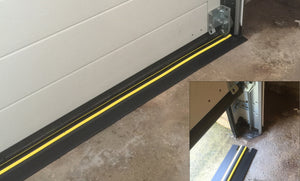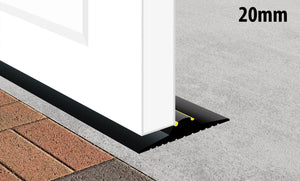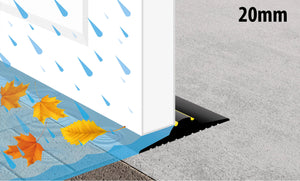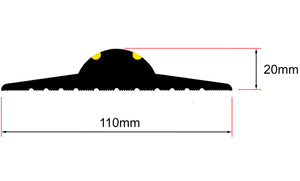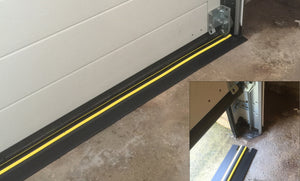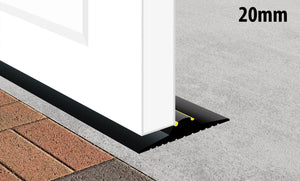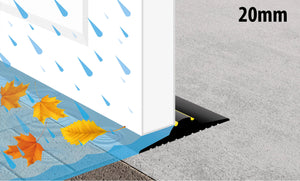 Garage Door Seal Coil 20mm (High)
Description
The GaraDry® 20mm high garage threshold flood seal coil has been designed to form a watertight seal between the garage door and the floor. The threshold will also prevent leaves, dust and debris from being blown under the garage door, thus ensuring a clean and dry environment.
Product Features
Creates a watertight seal between the bottom of the garage door and the floor
Prevents rainwater, leaves, dust from being blown under the door
Can prevent mice and other small rodents and reptiles from entering the garage
Can prevent heat loss and reduce energy costs
Can reduce condensation and rusting of equipment stored in garage
Yellow warning lines protect against trips and falls when passing over thresholds
Adhesive sold separately - Available here.
How does it work?
This20mm high garage threshold flood seal coil pushes up against the back of your garage door. It is supplied with a specially formulated adhesive & sealant which provides a water-tight seal between the threshold and the floor, preventing rainwater from being blown under your door.
What type of doors can it be used on?
The garage door seals can be used on all types of domestic and commercial doors, including up-and-over, sectional, roller shutter, and side-hinged doors. The threshold can be safely driven over with most vehicles.
What material is the seal made from?
Our 20mm flood seal is manufactured using high quality and long-lasting PVC material that is also fully recyclable, our thresholds are durable, flexible and eco-friendly. The material is odourless, UV stable, and will not decay or lose colour with prolonged exposure to water or sunlight.
Unlike seals that are made from rubber, the plastic material will not become brittle and crack over time and will maintain its original, extruded shape.
Manufactured in the UK
Designed by qualified British Industrial Designer
Products are fully manufactured in the UK
How can I contact you?
There are a few different methods of contact which you can use to speak to GaraDry®. You can fill out a contact form found here or by emailing sales@garadry.co.uk, both of these will lead to us receiving an email from you which we will respond to within 24 hours. If you don't need the information as a matter of urgency then those are very viable options, however you can also call up 01704 532 360 in order to contact our customer service team directly. They will be able to help you with any and all queries you may have.
Delivery & Returns
Delivery Costs
Delivery Service

Weight
Cost
Delivery Timescale
Economy Delivery
(UK mainland only)
0 - 200g
£1.99
2-3 working days delivery via Royal Mail 48 (Untracked).
200g - 2kg
£3.49

Standard Delivery
(UK mainland only)

< 200g
£2.99
1 - 2 working days via Royal Mail 24 (untracked)
200g - 2kg
£4.99
2k - 20kg
£6.95
1 - 2 working days courier (Tracked)
20kg - 40kg
£14.39
40kg - 60kg
£24.95
60kg - 250kg
£34.99

Express Delivery
(UK mainland only)

0 - 20KG
£8.99
Next working day Courier (Tracked). Delivery Monday-Friday. Available for most items. Orders placed before 2pm.
20kg - 40kg
£19.99
40kg - 60kg
£29.99
Returns Policy
To return an unwanted order, please contact us within 14 days of receipt of delivery. Full returns information can be found here.