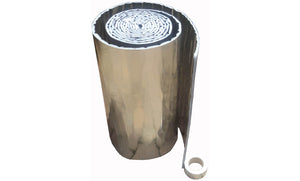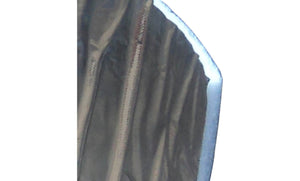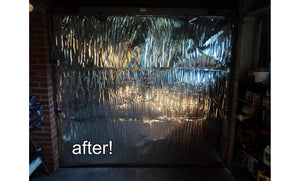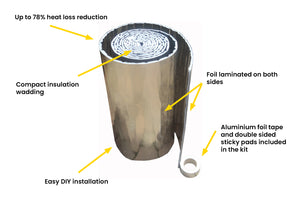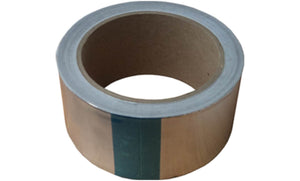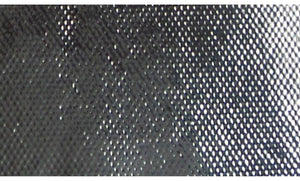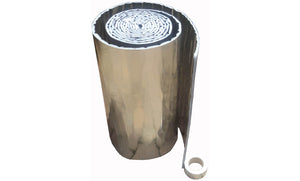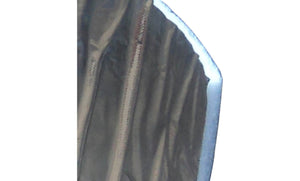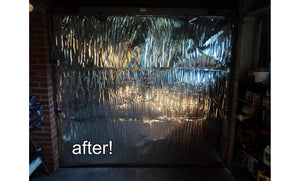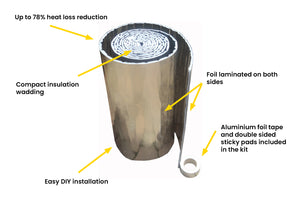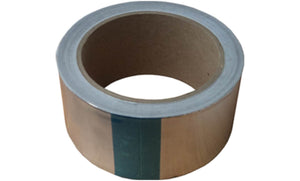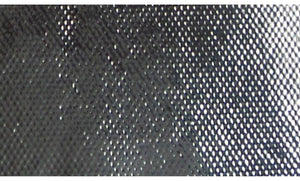 DIY Garage Door Insulation Kit
Description
Our garage door insulation kit is designed to be a more efficient way of keeping your garage warm during the colder months. This is the ideal product for insulating any metal up-and-over garage door and will serve to conserve heat and reduce energy costs. Also, in the summer and warmer months during the year it will keep the garage cooler.
Here at GaraDry we have developed this insulation kit to be lightweight, whilst still being effective at preventing heat loss. This is important as any additional weight added to your garage door can increase the strain on the door springs and other parts of the door mechanism. 
The kit comes in two sizes to suit single and double width doors:
Up to 8' wide doors. Roll dimensions: 714mm (W) x 7317mm (L)
Up to 16' wide doors. Roll dimensions: 714mm (w) x 14634mm (L)
How much will this garage door insulation kit reduce heat loss?
The U-value for an uninsulated garage door is around 5.88 W/m²K. This is the amount of heat that is lost in watts, for every square metre of door, and for every 1Kk the temperature difference between the inside and the outside.
The U-value with the garage door insulation attached using 2mm thick spacers is 1.28 W/m²K. This represents a 78% reduction in heat loss through the door.
How to insulate a garage door?
Our garage door insulation kit is designed to be easy to install by the average DIY person, without the need to enlist professional help. It is a much cheaper alternative than buying an expensive insulated garage door, which can cost thousands of pounds.
There is an easy-to-follow video which you can find here which will explain all the steps. In short it will involve some measuring of the insulation roll, measuring your own door and then a simple application process of sticking the insulation to the door with double-sided sticky pads and aluminium foil tape (both supplied as part of the kit).
To completely insulate your garage door, it's important to also seal any gaps around the door. For this purpose we sell a range of garage door thresholds, as well as both top and side seals for up-and-over doors.
Why should you consider buying a garage door insulation kit?
The most succinct explanation for why you should get one of these DIY kits is that it is not only a more cost-effective alternative to a fully insulated garage door, but the ease of application should sway you. This three-layer insulation will keep the heat in, and it will make a quick and noticeable difference to your garage temperature.
Our DIY garage door insulation kit can be fitted within just a couple of hours. This kit can be applied to any metal up-and-over garage door and will keep it insulated throughout the year. It is also extremely lightweight and will not add extra strain onto the lifting mechanism of the door.
What makes this kit ideal is its ease of use, with simple to follow instructions and you don't require any specialist tools or equipment, it makes your life a whole lot easier and once applied you won't have to worry about the temperature and heat retention in the garage. It is the best and cheapest way to insulate a garage door, so this is certainly a product you don't want to miss.
Why is having an insulated garage door important?
Often garages have an integral door leading into the house within the garage, this can be problematic if the garage isn't properly insulated as it will let heat escape. You want to avoid drafts which will lead the cold air into your house and cause a spike in your energy costs. Our other products such as the threshold seals and top and side seals can be used to reduce drafts that come into the garage and help you seal around your garage door to prevent heat loss.
Additionally, if you use your garage as a DIY workshop or a gym you should insulate your garage door to keep the place warmer when working inside. If you are exercising in a garage without any insulation during the winter, it would be an unpleasant environment to work out in. An insulated door will provide a warmer environment. On the other hand, in warm weather when you're working in the garage on a DIY project, a garage door without insulation can work like a radiator. This will then make it incredibly difficult to focus and work, which is why you should consider some kind of insulation because as well as keeping your garage warmer in winter it will also help to keep it cooler in summer months.
This kit includes:
GaraDry® insulation material
Aluminium foil tape (20.0m for single garage doors and 40.0m for double garage doors)
Double-sided sticky pads (50 pads for single garage doors and 100 pads for double garage doors)
Fitting instructions
How can I contact GaraDry® regarding this garage insulation kit?
If you need help with applying the garage door insulation kit or would like to know more about the product before you buy, you can contact us via a couple of methods. The first of these is to call 01704 532 360, which will put you through to our customer service team who will do their best to answer any questions you may have regarding the product or company.
If you would rather not call us, then you can use the contact form found here which you can fill out with your queries and questions and we will respond during business hours. You can also email us directly at sales@garadry.co.uk. We look forward to hearing from you.
 Safety and Technical Data Sheet
Delivery & Returns
Delivery Costs
Delivery Service

Weight
Cost
Delivery Timescale
Economy Delivery
(UK mainland only)
0 - 200g
£1.99
2-3 working days delivery via Royal Mail 48 (Untracked).
200g - 2kg
£3.49

Standard Delivery
(UK mainland only)

< 200g
£2.99
1 - 2 working days via Royal Mail 24 (untracked)
200g - 2kg
£4.99
2k - 20kg
£6.95
1 - 2 working days courier (Tracked)
20kg - 40kg
£14.39
40kg - 60kg
£24.95
60kg - 250kg
£34.99

Express Delivery
(UK mainland only)

0 - 20KG
£8.99
Next working day Courier (Tracked). Delivery Monday-Friday. Available for most items. Orders placed before 2pm.
20kg - 40kg
£19.99
40kg - 60kg
£29.99
Returns Policy
To return an unwanted order, please contact us within 14 days of receipt of delivery. Full returns information can be found here.