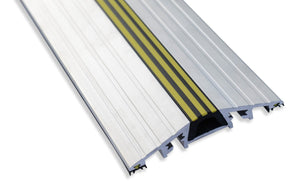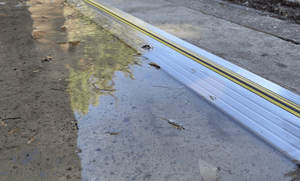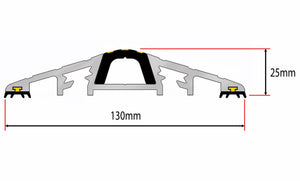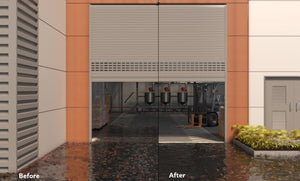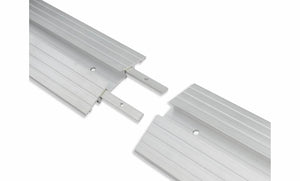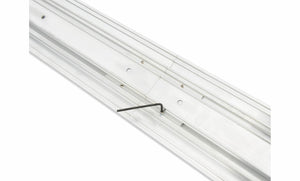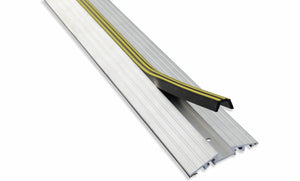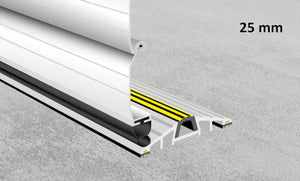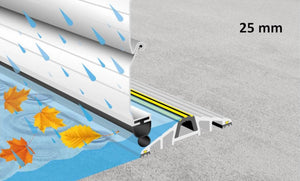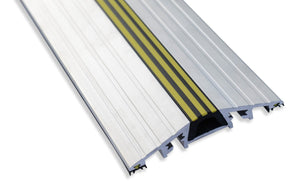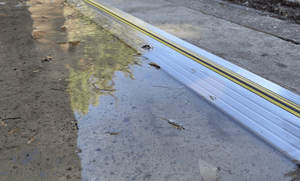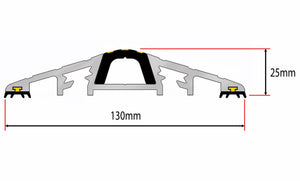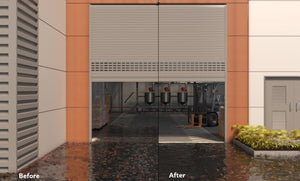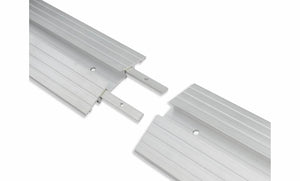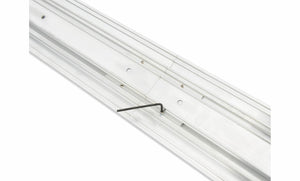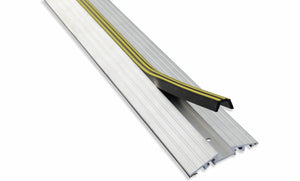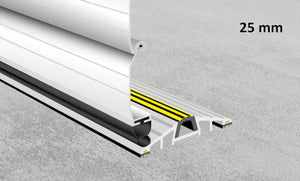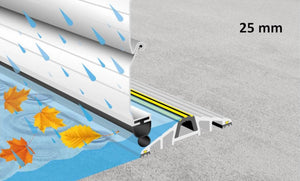 Commercial Door Threshold Seal 25mm (High)
Description
This commercial door threshold seal which sits at 25mm in height is the perfect addition to any warehouse roller shutter door. It is designed to withstand the weight of forklift trucks and other heavy, commercial vehicles. 
The threshold seal comprises multiple, interlocking aluminium sections with continuous seals running along the full length on the bottom outside edges of the threshold. This provides a complete seal along the full length of your threshold, thus preventing the ingress of wind-driven rainwater. It can also prevent dust, leaves, and debris from being blown underneath your door.

The 25mm threshold seal itself is made of a long-lasting, heavy-duty aluminium. Multiple lengths can be easily joined together to create a complete seal with no visible joins. The top cap and bottom seals are made of a high-quality PVC material. When the threshold seal is installed, the bottom PVC inserts compress to the floor forming a seal between the threshold and the floor to prevent water ingress. The struts of the threshold are also able to contact the floor and carry loads applied from above to prevent over-compression of the bottom seals.
The top cap is inserted into the channel on the top of the threshold. The provides a cover for the fixings to prevent wear and tear to the heads and the yellow warning lines running along the top provide a visible warning to people passing over the threshold to prevent trips and falls.
Why should I consider buying a 25mm commercial door threshold?
The main feature of this product is that when affixed to the floor and screwed in place, it creates a watertight seal which will waterproof your premises against standing water up to 25mm high. This will naturally prevent any rainfall, leaves, and other things the wind brings with it from going into your warehouse or factory which will leave you with a dry and clean environment for your workers. The seal can be used underneath the bottom of all types of garage door, including up-and-over, sectional, roller shutter, and side-hinged garage doors. It is suitable for residential garages, but you could also consider one of our garage door seal kits.
Apart from this all of our 25mm commercial door threshold seals comes with a PVC top cap which serves a dual purpose of protecting the heads of the screws from vehicle traffic by covering them, and the yellow warning strips indicate a danger of tripping and falling over the product. Additionally, every one of our kits comes with everything you need to install it by yourself, provided you have the tools.
What is our 25mm commercial door threshold made out of?
The threshold itself is made from aluminium, and it is supplied in multiple inter-locking sections which will be joined together. Kits longer than 2.5m are supplied with joining bars which allow the aluminium lengths to lock together.
Each threshold seal kit comes with thermoplastic bottom insert seals, which are supplied in one continuous length, which creates a seal along the entire length of the threshold. This happens as when the seals are compressed by the fixing screws it creates a watertight seal. The innovative design of the threshold means that the bottom seals will not over-compress or become crushed when driven over.
The Kit Includes
Aluminium Section(s) to form the threshold
Bottom Insert Seals
Top Cap
Concrete Fixings 6x60mm
1 T30 Screwdriver Bit to use with an electric screwdriver
Flat Bar Insert(s) to maintain rigidity
Grub Screws
Allen Key
Instruction booklet on how to set up the threshold
How do I get in touch with GaraDry
®

?

You can contact us during business hours with any inquiries regarding the product and anything else you need to know by calling 01704 532 360. This will put you through to our sales team who will be able to help you pick the best product for your business, as this is not the only commercial threshold seal we sell. In a similar fashion you can contact us over email on sales@garadry.co.uk we will aim to answer your query within 24 hours but are most of the time a lot faster than that.
Kits longer than 2.5m (8'2") will be supplied with multiple aluminium sections, please refer to the table below:
| | |
| --- | --- |
| Kit Length | Aluminium Sections |
| 2.0m (6'6") | 1 x 2.0m (6'6") |
| 2.5m (8'2") | 1 x 2.5m (8'2") |
| 3.1m (10'2") | 2 x 1.55m (5'1") |
| 4.0m (13'1") | 2 x 2.0m (6'6") |
| 4.5m (14'8") | 1 x 2.5m (8'2"), 1 x 2.0m (6'6") |
| 5.0m (16'4") | 2 x 2.5m (8'2") |
| 5.6m (18'4") | 1 x 2.5m (8'2"), 2 x 1.55m (5'1") |
| 6.0m (19'8") | 3 x 2.0m (6'6") |
| 7.0m (22'11") | 2 x 2.5m (8'2"), 1 x 2.0m (6'6") |
| 8.0m (26'2") | 4 x 2.0m (6'6") |
| 9.0m (29'6") | 2 x 2.5m (8'2"), 2 x 2.0m (6'6") |
Delivery & Returns
Delivery Costs
Delivery Service

Weight
Cost
Delivery Timescale
Economy Delivery
(UK mainland only)
0 - 200g
£1.99
2-3 working days delivery via Royal Mail 48 (Untracked).
200g - 2kg
£3.49

Standard Delivery
(UK mainland only)

< 200g
£2.99
1 - 2 working days via Royal Mail 24 (untracked)
200g - 2kg
£4.99
2k - 20kg
£6.95
1 - 2 working days courier (Tracked)
20kg - 40kg
£14.39
40kg - 60kg
£24.95
60kg - 250kg
£34.99

Express Delivery
(UK mainland only)

0 - 20KG
£8.99
Next working day Courier (Tracked). Delivery Monday-Friday. Available for most items. Orders placed before 2pm.
20kg - 40kg
£19.99
40kg - 60kg
£29.99
Returns Policy
To return an unwanted order, please contact us within 14 days of receipt of delivery. Full returns information can be found here.