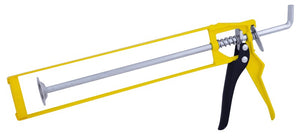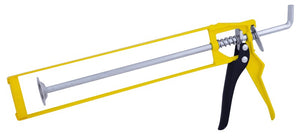 Skeleton Sealant Caulk Gun
Description
One of the most common DIY tools used are skeleton sealant caulking guns, this is because they make applying things like silicone extremely easy. The product is made from a metal skeleton where the name comes from combined with a trigger grip, and can be used with most adhesive cartridges of a standard size. Our GaraDry adhesive & sealant was made to be used with this type of caulk gun.
The skeleton sealant caulk gun is designed for purpose and it will be ideal when you decide to install a garage door threshold seal from us. It will make the entire process run smoothly and have your seal installed in no time.
How does the Caulking Gun work?
All you need to do regardless of whether you're working with our adhesive or otherwise is to simply insert a cartridge into the gun. You can then squeeze the trigger which will push the adhesive out of the tube, allowing you to control where it goes. When you do this with our garage door threshold seals you will need to create 2 parallel lines and then applying a 3rd zigzag line in between which will ensure maximum adhesion.
I have a problem with my installation, how can I contact you?
If you find yourself needing to contact us, have no fear and use one of our three contact methods to reach us. You can email us at sales@garadry.co.uk or fill out our contact form which you can find here. Both of these methods will get you in touch with our customer service team who will respond to you within 24 hours of receiving the email provided it's on a weekday. If you are having trouble right now then simply ring 01704 532 360, and our customer service team will walk you through whatever issues you may have.
Delivery & Returns
Delivery Costs
Delivery Service

Weight
Cost
Delivery Timescale
Economy Delivery
(UK mainland only)
0 - 200g
£1.99
2-3 working days delivery via Royal Mail 48 (Untracked).
200g - 2kg
£3.49

Standard Delivery
(UK mainland only)

< 200g
£2.99
1 - 2 working days via Royal Mail 24 (untracked)
200g - 2kg
£4.99
2k - 20kg
£6.95
1 - 2 working days courier (Tracked)
20kg - 40kg
£14.39
40kg - 60kg
£24.95
60kg - 250kg
£34.99

Express Delivery
(UK mainland only)

0 - 20KG
£8.99
Next working day Courier (Tracked). Delivery Monday-Friday. Available for most items. Orders placed before 2pm.
20kg - 40kg
£19.99
40kg - 60kg
£29.99
Returns Policy
To return an unwanted order, please contact us within 14 days of receipt of delivery. Full returns information can be found here.